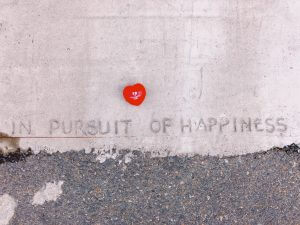 April was an exciting month filled with new endeavors for Gwyneth's Gift Foundation. The Foundation welcomed two new members to the team; Stacy our Fundraising Manager & Kristen our Outreach Manager. If you see them out in the community, don't hesitate to introduce yourselves!  
Externally, the Foundation made our way into McLean for our first training in Northern Virginia! We assisted E3 in training 14 of their staff in Hands-Only CPR and how to use an AED. Once again, we want to thank E3 for their kind donation which will allow us to continue to travel throughout the Commonwealth to train more individuals the skills to save a life!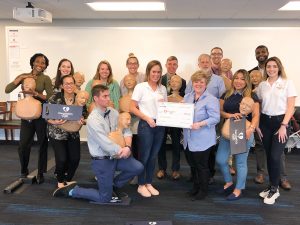 Starting our month training in Northern Virginia, we ended the month traveling to Richmond for Tuckahoes' Little League Carnival and Fun Day where we trained 30 people in Hands-Only CPR. We also held training at Fredericksburg's United Methodist Church as well as Highmark Brewery, ending April with a total of 60 individuals trained in Hands-Only CPR and how to use an AED. That's 60 more people who are capable to save a life! 
Thanks to a generous grant from the Stafford Hospital Foundation Community Benefit Fund, Gwyneth's Gift was able to fulfill Rappahannock Area Community Services Board's request for an AED – awarding them our April AED Placement! We will be joining them in June to train their staff in Hands-Only CPR and how to use an AED.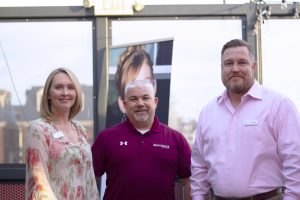 As busy as we were with several training and awareness events, we also had some fun too – all for a good cause of course! Gwyneth's Gift Foundation partnered with Castiglia's Sky Bar to host an evening of charity. Castiglia's provided a delectable spread of appetizers while our guest-bartenders served wine and beer. Throughout the night, we were able to raise over $3,000! We cannot thank those enough who came out to support us and our mission. Thanks to our community's continuous support, we can use those funds to create a safer community by placing more AED's into our community!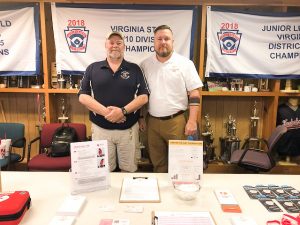 April was such a successful month for Gwyneth's Gift Foundation, we can't wait for what's in store for May 2019! We are traveling back to Northern Virginia to Longfellow Middle School for our biggest training event yet – we will train over 1,000 students in Hands-Only CPR throughout the course of one day! As for community involvement, throughout the entire month of May for every auto, fire or life quote you receive from Michael C. Smith – State Farm Agent, a $10 donation will be made to Gwyneth's Gift Foundation – it's as simple as that. It is our goal, through Quotes for Good, to raise $1,500 in an effort to place an additional AED into the community. You can get more information on how you can participate in Quotes for Good here. We have a lot to look forward to in May including…. 
Drum roll please……… 
Gwyneth's Gift will be hosting our first Mom Prom – a lady's night out for charity on May 18th! We are excited to introduce Mom Prom Dancing Through the Decades for the first time to the greater Fredericksburg area. We look forward to a fun evening where guests will enjoy music from the 1940's – early 2000's, heavy appetizers and dessert bar, a new photo booth experience, a signature drink, auction items and a Mom Prom Queen Basket to be raffled off at the end of the night. The winner of the basket will be crowned the Mom Prom Queen – an honor all attendees have the chance to win. To learn more about Mom Prom Dancing Through the Decades visit our Facebook events page. You can purchase your ticket to Mom Prom here!