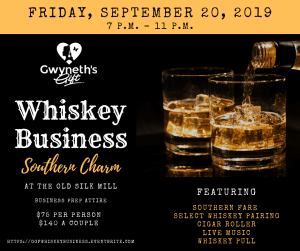 Gwyneth's Gift Foundation is offering the community the opportunity to infuse their world with an evening of Southern hospitality – all for a great cause! With more options for whiskey lovers than ever, Gwyneth's Gift is creating a VIP whiskey tasting experience by bringing some of the most sought out whiskeys of the South, to the 'Burg! Along with select whiskeys behind the bar, in attendance will be whiskey brand experts from Tarnished Truth, Elijah Craig and Uncle Nearest. Each of these whiskeys will be available at their own tasting station so that each attendee can experience, enjoy and learn about each whiskey by a trained, and knowledgeable, whiskey professional.
Entertainment, good whiskey and delicious food go hand in hand in the South. You can rest assured that the Chef of The Old Silk Mill will be cooking up some of the tastiest fare of the South including fried okra, chicken & waffles and of course slow cooked BBQ. The Significant Others will also be making an appearance as our rocking band for the evening, serving up a potent party cocktail, in this case an old fashioned. Get in the spirit by participating in the Whiskey Pull for the chance to win a bottle of whiskey ranging from $30 to $200 or compete to win one of an array of auction items provided by local establishments. Finish off the night with a trip to the snack bar after indulging in an exclusive, hand-rolled cigar from Pucho Cigars.
Yes, just like the South, Gwyneth's Gift likes to take our pleasantries very seriously so, what's a little Southern hospitality without a whole lot of Southern charm?