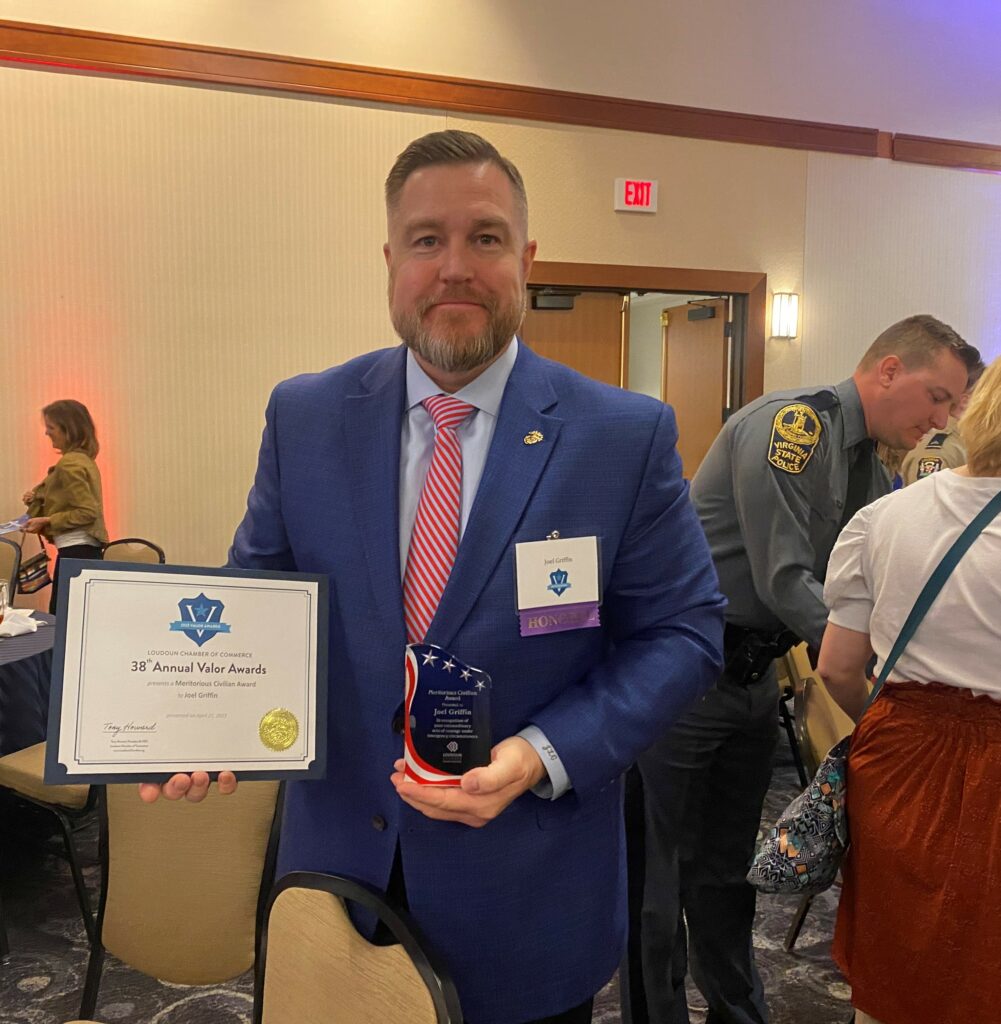 Fredericksburg, VA – Joel Griffin, Co-Founder and Chairman of Gwyneth's Gift Foundation, has been awarded the Meritorious Civilian Award by the Loudoun Chamber in recognition of his heroic actions in saving the life of a man who experienced sudden cardiac arrest (SCA). The award was presented at the Loudoun Chamber's 38th Annual Valor Awards ceremony on May 1, 2023. 
Mr. Griffin received the award for his quick response and lifesaving actions when he witnessed an elderly man collapse from sudden cardiac arrest. Griffin, who was trained in CPR and the use of an automated external defibrillator (AED), immediately began chest compressions. The man was revived on the 28th chest compression and was later transported to the hospital for further treatment.
"We are thrilled that Joel's heroic actions have been recognized with this award," said Veronica Gutierrez, Director of Operations for Gwyneth's Gift Foundation. "Joel's quick response and knowledge of CPR and AED use highlights the importance of being prepared for sudden cardiac emergencies, they can happen anywhere at any time."
Joel Griffin co-founded Gwyneth's Gift Foundation with his wife, Jennifer, in honor of their daughter who passed away from sudden cardiac arrest a few days after her 13th birthday. The foundation's mission is to prevent sudden cardiac death by promoting heart health and providing education and training in Hands-Only CPR and AED use. Gwyneth's Gift aims to establish a Culture of Action where communities have the knowledge and confidence to respond to sudden cardiac emergencies and increase the likelihood of positive health outcomes.
"Joel is a leader, he lives the mission of Gwyneth's Gift Foundation," said Gutierrez. "By teaching four basic steps, we hope to prevent other families from experiencing the devastating loss that the Griffin's have experienced."
The Meritorious Civilian Award is given by the Loudoun Chamber to individuals who have demonstrated exceptional public service or heroic actions in the community.
For more information on Gwyneth's Gift Foundation and their mission, visit www.gwynethsgift.org.