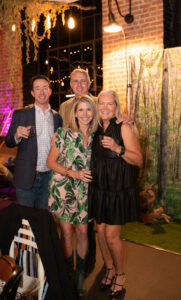 Gwyneth's Gift Foundation is delighted to announce its upcoming fundraising event, "Whiskey Business: Emerald Isle" with our generous presenting sponsor, Mary Washington Healthcare. This exquisite evening is set to take place on September 22, 2023, at the Old Silk Mill in Fredericksburg, and promises to be an unforgettable experience celebrating the finest whiskey from Ireland, complete with whiskey tasting, cigar rolling, live entertainment, silent auction, and an open bar offering a selection of top-shelf whiskey, beer, and wine. 
"Whiskey Business: Emerald Isle" is a unique opportunity for whiskey enthusiasts, business professionals, and philanthropists to network and support the meaningful work of Gwyneth's Gift Foundation. Attendees will be immersed on a journey through the rich heritage of Ireland's acclaimed whiskeys, indulging in tastings of the finest offerings from renowned distilleries.  Throughout this captivating journey, our knowledgeable experts will skillfully guide you, revealing thoughtfully curated selections of premium whiskeys. With an open bar serving a remarkable array of top-shelf whiskey, beer, and wine, attendees will have the opportunity to savor their preferred drinks while engaging in conversations, forging connections, and celebrating the impact of Gwyneth's Gift Foundation. 
In addition to the exceptional whiskey tasting experience, attendees enjoy live entertainment that embraces the spirit of Ireland's cultural heritage. Prepare to be enchanted by performances from talented musicians and entertainers who will create an atmosphere of joy and celebration. 
The silent auction will highlight an assortment of treasures that no one will want to miss. Each piece has been meticulously handpicked by local businesses and sponsors to offer an exclusive experience. With each bid, you can acquire a remarkable item while supporting the local community. 
Join us for an evening filled with sophistication, cultural richness, and unwavering dedication to a worthy cause. Your presence at "Whiskey Business: Emerald Isle" will not only be an unforgettable experience but will directly support Gwyneth's Gift Foundation's ongoing efforts to create a Culture of Action by empowering communities with the knowledge, skills, and confidence to save a life.  
Tickets for "Whiskey Business: Emerald Isle" are available for purchase at https://www.gwynethsgift.org/event/whiskey-business-2023/. We encourage early registration as this exclusive event sells out every year. Sponsorships are also available, please email veronica@gwynethsgift.org for more information. 
About Gwyneth's Gift Foundation: Gwyneth's Gift Foundation is a 501(c)3 non-profit organization committed to saving lives through education and action. Founded in honor of Gwyneth Griffin, the foundation focuses on raising awareness and training of Hands-Only cardiopulmonary resuscitation (CPR) and the use of automated external defibrillators (AEDs) to prevent tragic incidents and empower communities to respond effectively in emergency situations. 
For media inquiries, interview requests, or further information about Gwyneth's Gift Foundation, please contact: 
Jo Ann Dinwoodie 
Gwyneth's Gift Foundation 
540-681-1632 
Joann@gwynethsgift.org